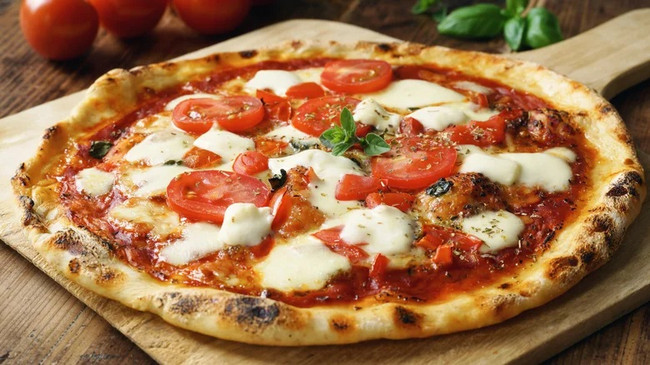 V. Matthiesen/Shutterstock
Many will agree a hot dog or hamburger is not complete without a healthy dose of ketchup and mustard. People often reach for the iconic red and yellow toppings to add extra flavor to their french fries, sandwiches, and even breakfast burritos. However, some ketchup and mustard lovers feel the condiments pair with more than the usual fare and add them to pizza slices. In a Papa John's Pizza blog post, ketchup and mustard ranked number one on its list of unusual pizza toppings. The pizza chain claims these condiments add "a delicious tang" — and they're much more popular than we would have ever guessed.
Upon further research, we discovered many people slather these traditional hot dog condiments on pizza slices. Several TikTok creators have shared their controversial sauce choices with followers, only to discover others also love to douse their slice of cheese or pepperoni in ketchup and mustard. If you aren't ready to commit to this new sauce combination on traditional slices, consider testing the waters and making a grilled cheeseburger pizza. This deconstructed cheeseburger recipe places all your favorite burger toppings onto a pizza, complete with ground beef, pickles, cheese, and yes — ketchup and mustard. If you prefer hot dogs over hamburgers at your family cookout, making a hot dog pizza isn't out of the question either. With a few cut-up hot dogs, diced onions, and some diced pickles, you can combine two classic cuisines into one delicious bite — drizzled with America's favorite hot dog toppings, of course.

Goodbye marinara, hello ketchup and mustard!
Some people may turn their noses at the idea of adding ketchup and mustard to pizza, while others have adopted it into their cultural cuisines. According to one TikToker, adding these tangy sauces to pizza is known as "Brazilian style." If you take a trip down south, you're likely to encounter many Brazilian people enjoying pizza with a vibrant mix of red and yellow on top. Reddit users from Mexico City and Chile say they've also seen pizza enjoyed with ketchup and mustard amongst the communities there.
Drizzling ketchup and mustard atop of your favorite slice isn't the only way adventurous pizza lovers have incorporated these cookout condiments into their favorite pies. Steak lovers have taken their pizzas to the next level by adding slices of New York strip steak, mushrooms, and green onions, replacing the old sauce with a spicy mustard base. The combination creates a burst of flavor in every bite resembling the spicy deliciousness of a steak sandwich. Detroit-style pizza, known for its deep dished dough and crispy edges, has also received a mustard makeover. There, you can find pizza that tastes a whole lot like a pastrami sandwich, complete with mustard sauce, layers of pastrami and cheese, and even more mustard on top. One commenter on an Insider Food video shares their love of this innovative pie, saying, "It defies logic but it's very tasty." Ketchup can also be used in lieu of marinara sauce, especially for those who enjoy a sweeter bite of pizza.