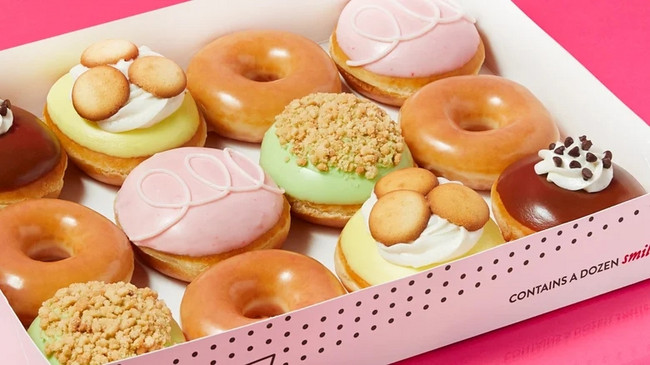 Krispy Kreme
Krispy Kreme may be known for its donuts, but it's pretty savvy when it comes to marketing, too. Limited-time menu offerings are a popular way to drum up interest in a business, and in Krispy Kreme's case, these come in the form of special donut collections. They may be holiday-inspired, like last year's Santa's Bake Shop offerings, or built around a particular topic, like last month's cookie-flavored donut drop. Per a press release, the donut chain's latest offering is called "Fan Favs" and is available in stores right now. The new assortment features donuts that Krispy Kreme has identified as being the top sellers from the last five years' worth of collections.
So what are the donuts that made this greatest hits list? One is a banana pudding-filled donut topped with vanilla wafers. There's also a chocolate "kreme" pie donut with chocolate filling, chocolate frosting, and chocolate chips on top. Yet another pie-themed offering is the green-frosted key lime pie, complete with graham cracker crumb topping, while the collection is rounded out with a strawberry frosted, strawberry "kreme" filled donut. The donuts will not only be available in Krispy Kreme stores and via the usual food delivery apps for a limited time (length unspecified), but select grocery stores will also be selling six-packs featuring the whole collection. (Which two donuts round out the half-dozen is something we don't yet know.)
The real Fan Favs may be the ones always on the menu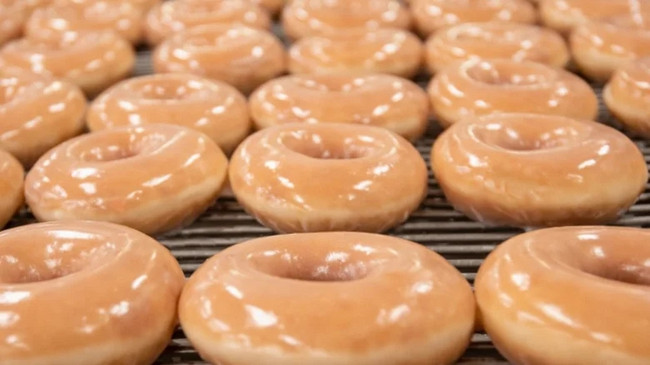 Facebook
We can't really argue with Krispy Kreme's metric for determining what constitutes a fan favorite, as the chain based its selection on sales figures, and data is data. Still, we always like to do a little fact-finding of our own and as it just so happens, Mashed has already polled our readers to find out their Krispy Kreme favorites. We will admit, though, that we did not limit ourselves to special collection donuts as KK did when compiling its list of top sellers -– after all, there's no need for the chain to drop a collection of donuts that never left the regular menu. To no one's surprise, the real fan favorite, chosen by 48% of Mashed readers, is the original glazed one.
Over on Twitter, a similar Krispy Kreme donut poll came up with mixed results. Sure, the glazed got a bunch of votes, but the jelly, Boston kreme, and glazed chocolate all proved quite popular, as well. Once again, though, all of these donuts are on the everyday menu. Well, who knows, maybe Krispy Kreme will one day decide to add one of their special collection fan favorites to the main roster.