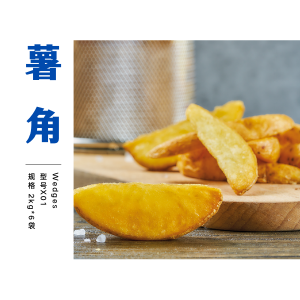 【Product Model】X01
【Product Standard】2kg/bag * 5 bags, 10kg/box
【Ingredient】Potato, edible vegetable oil, edible glucose, food additive
 (Sodium Acid Pyrophosphate)
【Cooking Direction】Put potato wedges into 177-182 Celsius oil pan, deep-fry for about 3'45 minutes to 4'15 minutes until golden color.
【Storage】Product needs be stored in below -18℃ temperature controlled storage, with no more than 2℃ fluctuation. Away from walls and ground.
【Expiration】Product is good for 24 months if stored under -18℃ condition.